H

a

a

a

a

a

a

p

p

y

H

a

l

l

o

w

e

e

n!
The weather outside sure is spooky.
Instead of doing the usual What I Ate Wednesday, I want to take some time to share with you a few delicious recipes and fabulous workouts I've tried lately from around the blogosphere.
Yummies:
I got this recipe from Whole Food's website because I was looking for a salmon recipe that used almond meal.  I got a pound of wild salmon at Whole Foods, dabbed on some honey mustard, sprinkled it with salt and pepper and dredged it in the almond meal.  Bake it at 375 degrees for about 12 minutes (longer depending on the thickness of the salmon) and that's it! Using almonds as the breading added a really unique flavor and texture.  I didn't make the caramelized onions in the recipe, but we both really enjoyed the salmon!
Creamy Basil Noodles: I went a little bit outside my healthy comfort zone for this one, and oh man was it worth it!  These were absolutely delicious.  They're basically whole wheat noodles combined with a creamy (yet somehow light) parmesan sauce infused with basil.  We each ate every last bite of these noodles. It was a great combination with the almond crusted salmon.  I may be using the extra half and half and Parmesan for a creamy potato soup later this week….
Blueberry Banana Bread: I love this recipe because it uses mixed berries instead of chocolate chips, making the most beautiful looking bread!   It's super easy to make, 100% whole-wheat, vegan, and it and has no fat.   Did I mention that it also has over four grams of fiber per slice? Win!
Roasted Broccoli with Smashed Garlic
: I make roasted broccoli all the time, but this recipe was special because it used whole garlic cloves.  There's something about roasting the whole clove that brings vegetables to a whole other level.  Delicious!
Quinoa and Bean Corn Chowder: I make a big batch of this every year once it starts getting chilly outside.  It's packed with nutrients from the veggies, beans and quinoa and it really is a beautiful soup.  I love that it's lighter than traditional chowders by using almond milk and veggie broth instead of heavy cream.  This is great for packing in lunches or reheating for a quick, satisfying dinner.
When Katie said totally addictive, she wasn't messing around!  We all had at least two big pieces of this delicious, vegan cornbread.  It's totally flourless (made with only cornmeal) and is absolutely delicious.  It is pretty crumbly, so I would probably add an egg to the batter next time to help it stick together more.  I would also only use 1/4 cup sugar instead of 1/4 cup + 2 tbsp because I thought it was just a touch too sweet.  I will definitively be making this one again soon.
Sure to be Sore Workouts:
8 Minute Plank Workout: I did this yesterday and my abs were BURNING when I woke up this morning. That's definitely a good thing.  Plank exercises are amazing for you core, and I highly recommend this one.  It's super quick but so effective!
15 minute At Home Circuit Workout
 I love this because you can customize it and do it at home.  This is especially good for the current weather situation (ahem…Sandy).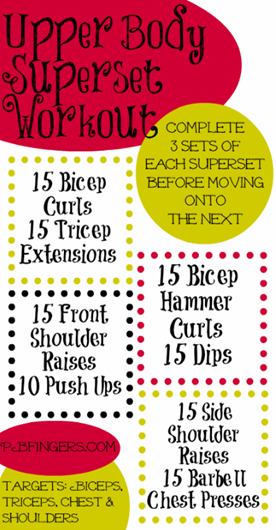 Quick n' Sweaty Treadmill Interval Workout
: As your probably already know, I love Julie's workouts! I especially love that this is only a 20 minutes workout but I come off the treadmill sweating like crazy.  It combines fast walking with high inclines and intervals of jogging and running.  It's the perfect combination and super easy to squeeze into your day since it's only 20 minutes.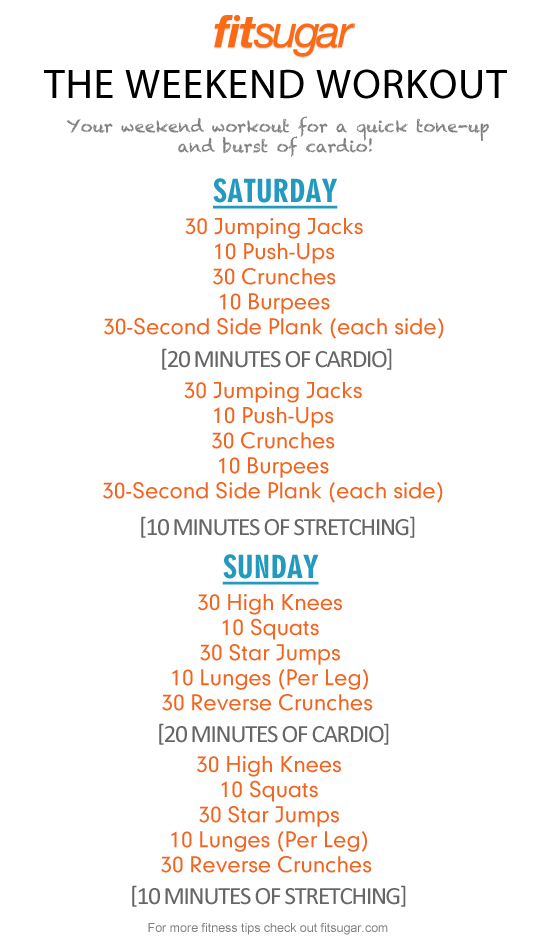 I love this one because of the fabulous variety.  Also, because it's called the Weekend Workout, I'm more inclined to actually workout on the weekends for whatever reason.

Love it.